Korean beauty brand that will make you ditch your other lipsticks
After purchasing several Peripera lipsticks and lip tints, I became more interested in what other Korean makeup beauty brands have to offer.
To someone who has a fair skin with warmer undertone like me, finding the right shade of light nude or rosy beige is a real struggle. Here in the Southeast Asia, orange undertone is a must – burnt orange shades, deep cocoa browns, honey nudes, vibrant reds, fuchsia pinks or warm and bright peachy nudes are everywhere.
So, after Peripera, Etude House lipsticks pleasantly surprised me. They have a huge color palette, and if I could I would buy a lipstick or two from every shade range.
Better Lips-Talk Collection
Etude House divided their lipstick collection into pink (PK), brown (BR), red (RD), orange (OR) and beige (BE) shades. Every shade is described as either warm, neutral or cool toned, which makes your life so much easier if you now your undertone. Some lipsticks have velvet finish, others are more satiny, and few of them have more balmy texture.
The lipsticks are fabulous. All of them offer medium coverage with one swipe (except Juicy juice shade). Both the velvet and the satin ones feel comfortable to wear. High shine lipsticks are not sticky, and velvet ones apply thin and feel almost powdery.
The shades listed here are not the whole collection, just the ones that I think match best with my undertone.
Pink shades
Gentle pink PK003: warm medium toned rose with red pigment and satin finish. Somewhere between pink and red, I loved this shade so much the moment I applied it.
Jewel play PK004: warm medium toned rose with satin finish.
Smog pink PK002: cooler medium toned purple rose with sating finish.
Mood up PK003: warm medium toned purple rose with velvet finish.
Lonely pink PK00: very warm deeper pink with velvet finish. Such a nice shade of pink, it's definitely one of my favorites.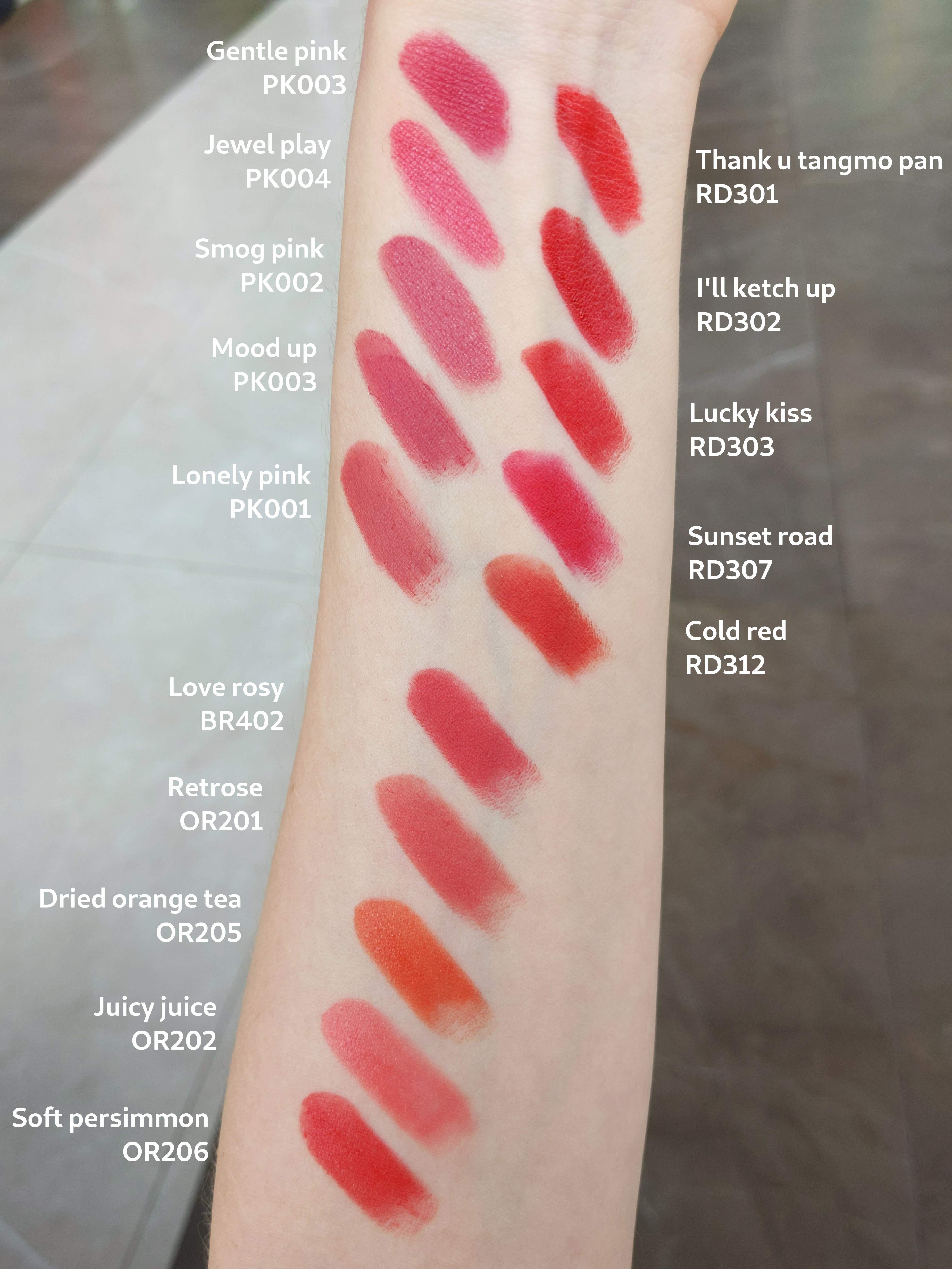 Red shades
Thank u tangmo pan RD301: The photo doesn't do this shade justice. This is a warm bright red with a hint of pink and a satin finish. Tangmo pan should mean watermelon in Thai, so imagine a ripe freshly cut watermelon and you get the idea of how beautiful this shade is.
I'll ketch up RD302: very classic neutral deeper shade of red with satin finish. I could almost smell ketchup when I tried this shade. Reminds me of Dior 999 Satin, this is that kind of red. Definitely on my wish list.
Lucky kiss RD303: warm red with velvet finish. Almost the same as the previous one, just a bit warmer and with different texture.
Sunset road RD307: cool bright berry red with satin finish.
Cold red RD312: warm burnt red with velvet finish. Very unique.
Orange and brown shades
Love rosy BR402: warm deeper reddish rose shade with velvet finish. It's categorized as a brown, but it's clearly not.
Retrose OR201: warm medium toned orange rose with velvet finish.
Dried orange tea OR205: warm medium toned orange with red undertone and satin finish. Absolutely perfect orange shade, which is why I bought it. Not too vibrant or light, not too red. Just what I was looking for. Reminds me a bit of Gucci 302 Agatha Orange Satin, but it's less vibrant and more red. Hard to find it these days.
Juicy juice OR202: warm very bright peach with red undertones. The intensity and peachiness of this color is not visible in the picture. Has low coverage and the texture of a lip balm. Needed at least three layers for more opacity. If you like this shade but need something more opaque, I would recommend Sugar whip (not listed here), as it's very pigmented and slightly lighter.
Soft persimmon OR206: warm muted orange red with satin finish.
Beige shades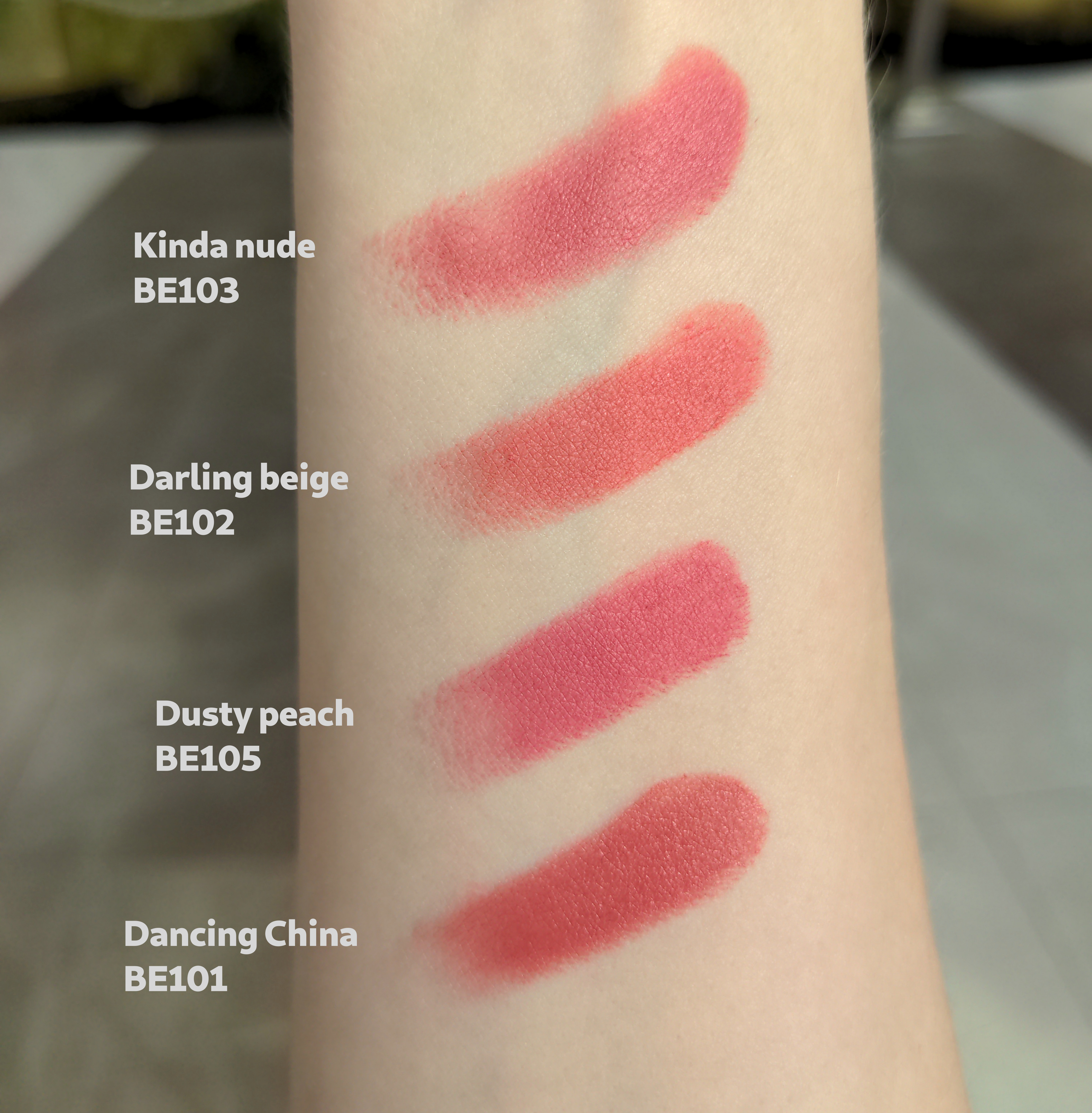 Kinda nude BE103: deeper warm rose with velvet finish.
Darling beige BE102: warm medium toned rose with orange undertones and velvet finish. I bought this shade because it looked like a perfect nude for me – it's not beige, it has a touch of rosy pigment in it, and it's also not cool toned nor muted.
Dusty peach BE105: neutral medium toned vibrant rose with velvet finish.
Dancing China BE101: muted warm toned deeper rose with orange undertones and satin finish.
For more satiny shades, check out their website http://www.etude.com/th/th/?product=better-lips-talk-regular. This is where you'll find their velvet lipsticks: http://www.etude.com/th/th/?product=better-lips-talk-velvet.

So what do you think about this collection? Which shades would you like to try? Let me know at bonjour@beautyrevised.com.