Hm, a face mask with hyaluronic acid. I needed to try it.
What I love about this mask
Watsons Love My Glow Ginseng Optimal Repairing HA Mask is a root scented face mask with Jeju spring water and sodium hyaluronate for skin moisturizing and reducing fine lines.
"Renewed skin" and "recharged tired skin" are claims mentioned on the packaging.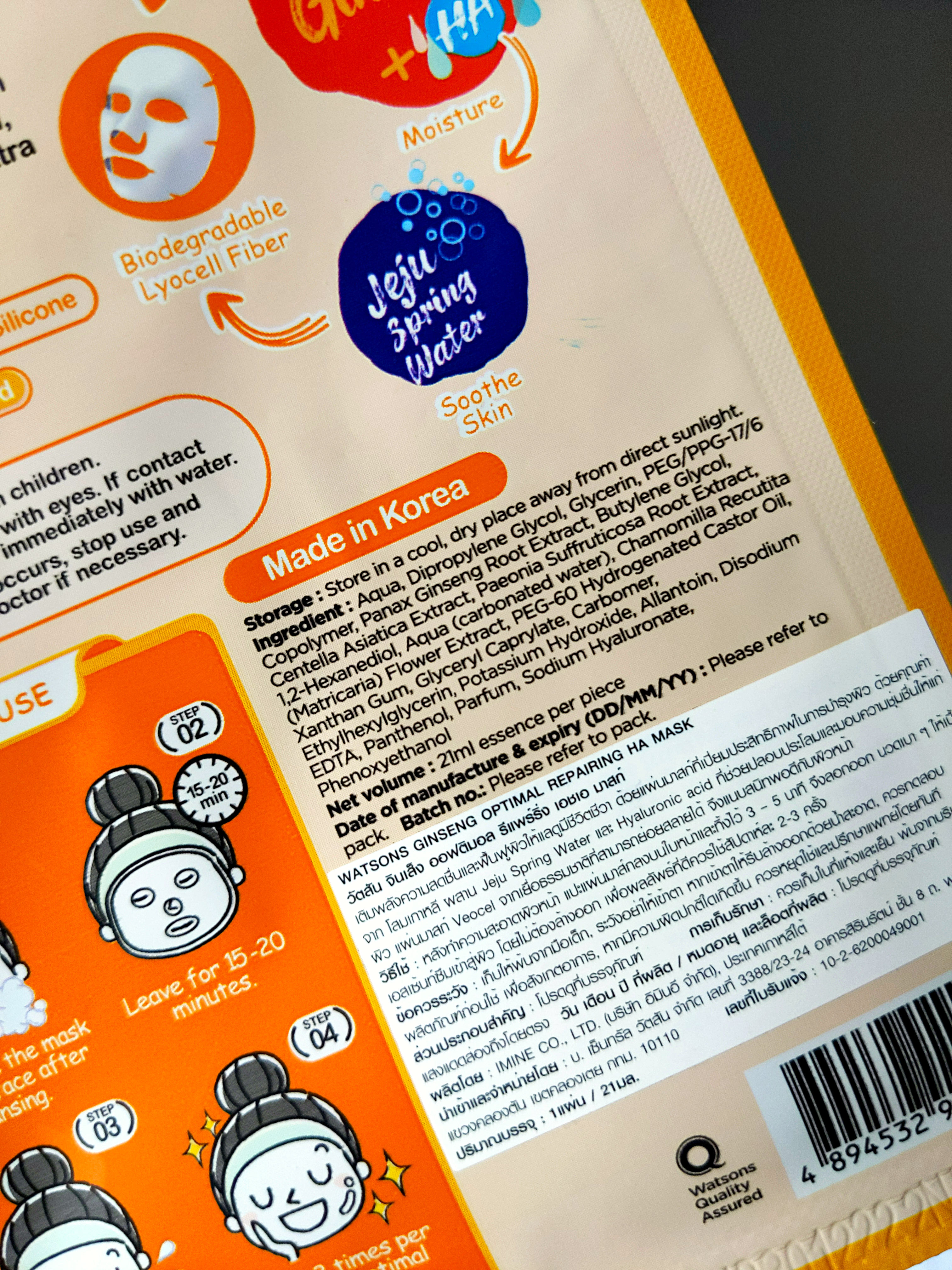 The essence contains: Panax Ginseng root extract, Centella asiatica extract (Gotu kola), Paeonia suffruticosa (Chinese Peony) root extract, carbonated water, Chamomilla Recutita (Matricaria) Flower Extract (German Chamomile), allantoin, sodium hyaluronate.
No alcohol. It has preservatives.
Sodium hyaluronate (HA), the star ingredient, is especially beneficial if you have dry skin, like me.
In order for a product with HA to work best, it's recommended to apply it on damp skin. That's why you should wash, and thus hydrate your face before putting this mask on. It's even better if you apply another moisturizer on top, after you've massaged the essence into the skin.
Honey texture
The thing I don't particularly like about this product is its consistency.
It's thick, almost like honey or sugar syrup.
The feeling left on the skin is like you slathered everything creamy you had in your bathroom cabinet plus some kitchen ingredients.
It's hard to tap the essence into the skin and it's not easy for skin to absorb it. Total nightmare if you dislike the idea of having your oily face touch a crispy fresh pillow.
That's why I wasn't comfortable with following this with my usual moisturizer – my skin already felt like I had too much going on.
However, the viscous texture is useful when it comes to unfolding and putting the mask on. It doesn't drip.
When your face smells like … carrots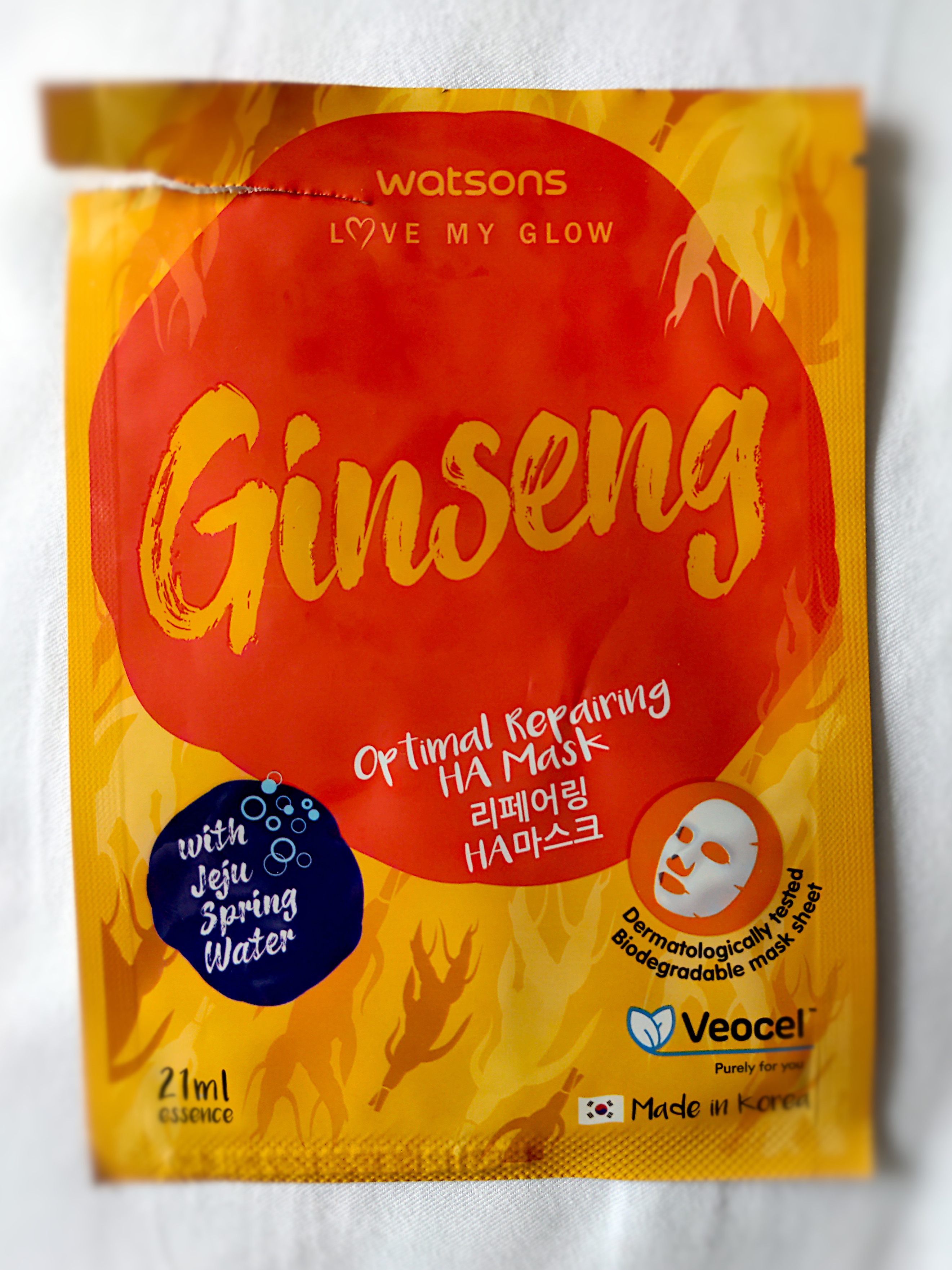 Yes. Carrots.
Tree bark. Radishes.
Roots in a nutshell.
Well, it is named a Ginseng face mask, so it would be confusing if it smelled like something other than roots.
The scent is not too strong, but it's not pleasant.
This product would be better if it had no scent at all. Fragrance is, after all, a secret bunch of ingredients that can cause allergies and sensitivities in the least.
The morning after
For the record, at least 30 minutes was how long I had the mask on. When you look at the lush palms and turquoise sea of Bora Bora on youtube, it's hard to keep track of time.
Tomorrow morning my face was feeling grand. Plump and moisturized skin is what I expected and that's what I got.
Also, my wrinkles were less visible. Still there, but softer.
Let's talk about ingredients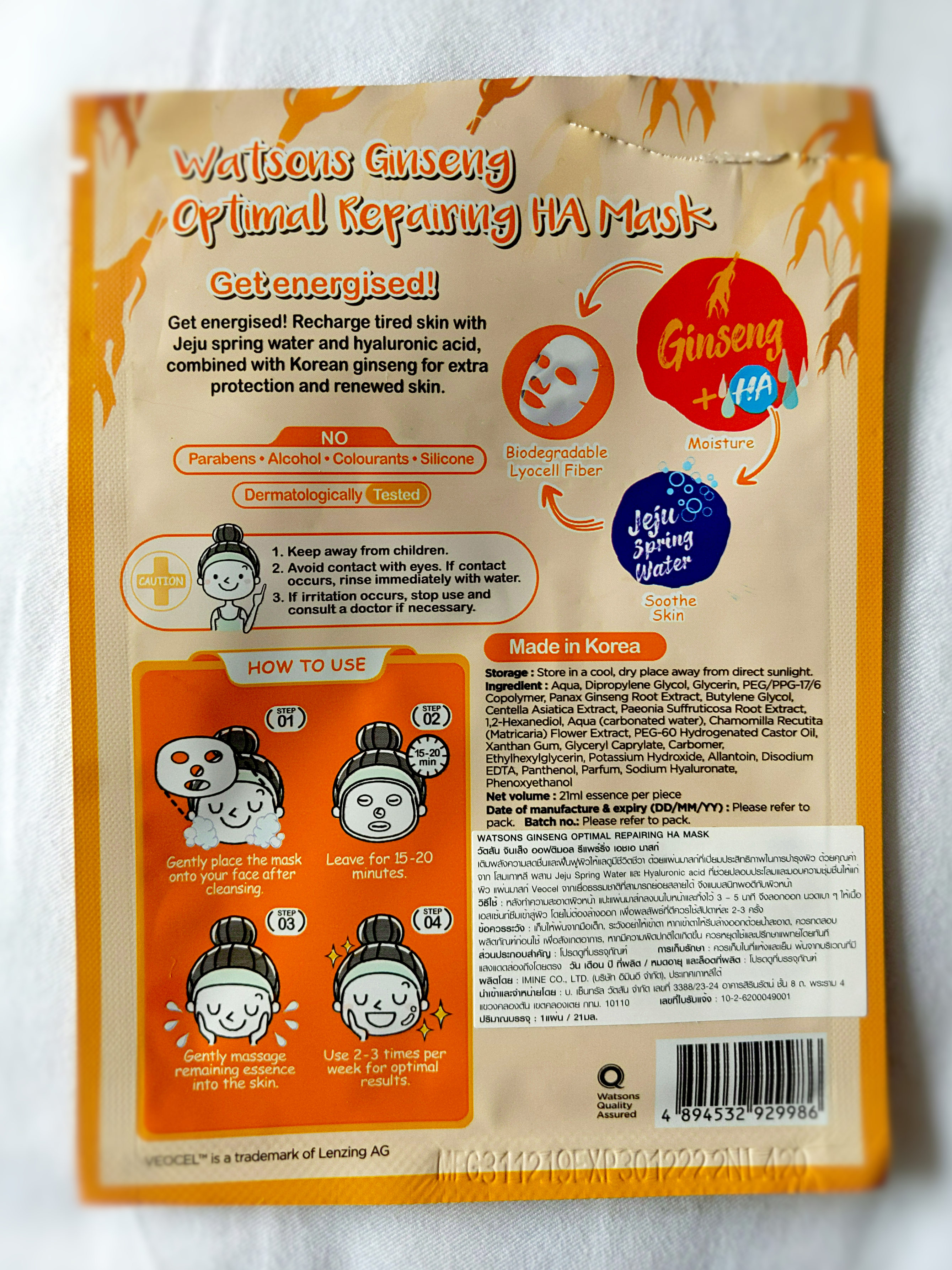 Panax ginseng root extract – enhances skin nutrition and has antioxidant properties.
Centella asiatica extract – moisturizing and anti-inflammatory properties for eczema. Some of its active compounds contribute to hyaluronic acid synthesis in our skin. Others enhance collagen synthesis which is significant for wound healing.
Paeonia suffruticosa root extract – skin protecting properties.
Carbonated water – for skin cleansing. Helps your skin look healthy by enhancing nutrient delivery to the dermis.
Chamomilla Recutita (Matricaria) Flower Extract – has anti-inflammatory, moisturizing and wound healing properties. Helps in diminishing photo-damage.
Allantoin – soothing, skin-softening ingredient with wound healing properties.
Sodium hyaluronate – has moisturizing and soothing effects. It's derived from hyaluronic acid, it's smaller in size and more stable than HA. It's used for its tissue repair and skin strengthening properties. Deeply hydrates and improves signs of aging.
Panthenol (Pro-Vitamin B5) – a moisturizer and soothing ingredient.
Potassium hydroxide (KOH) – PH regulator.
Conclusion
Watsons Love My Glow Ginseng Optimal Repairing HA Mask has powderful ingredients, put the fact that it has parfum puts me off.
I won't be repurchasing it, but I do recommend it. It just works.