It's intensive alright
The only reason I wanted to try this serum is because:
a) it was on sale
b) I was looking for a face mask I still haven't tried, that is not brightening or whitening. I'm already pretty fair.
c) magic words were supple skin and deeply nourishes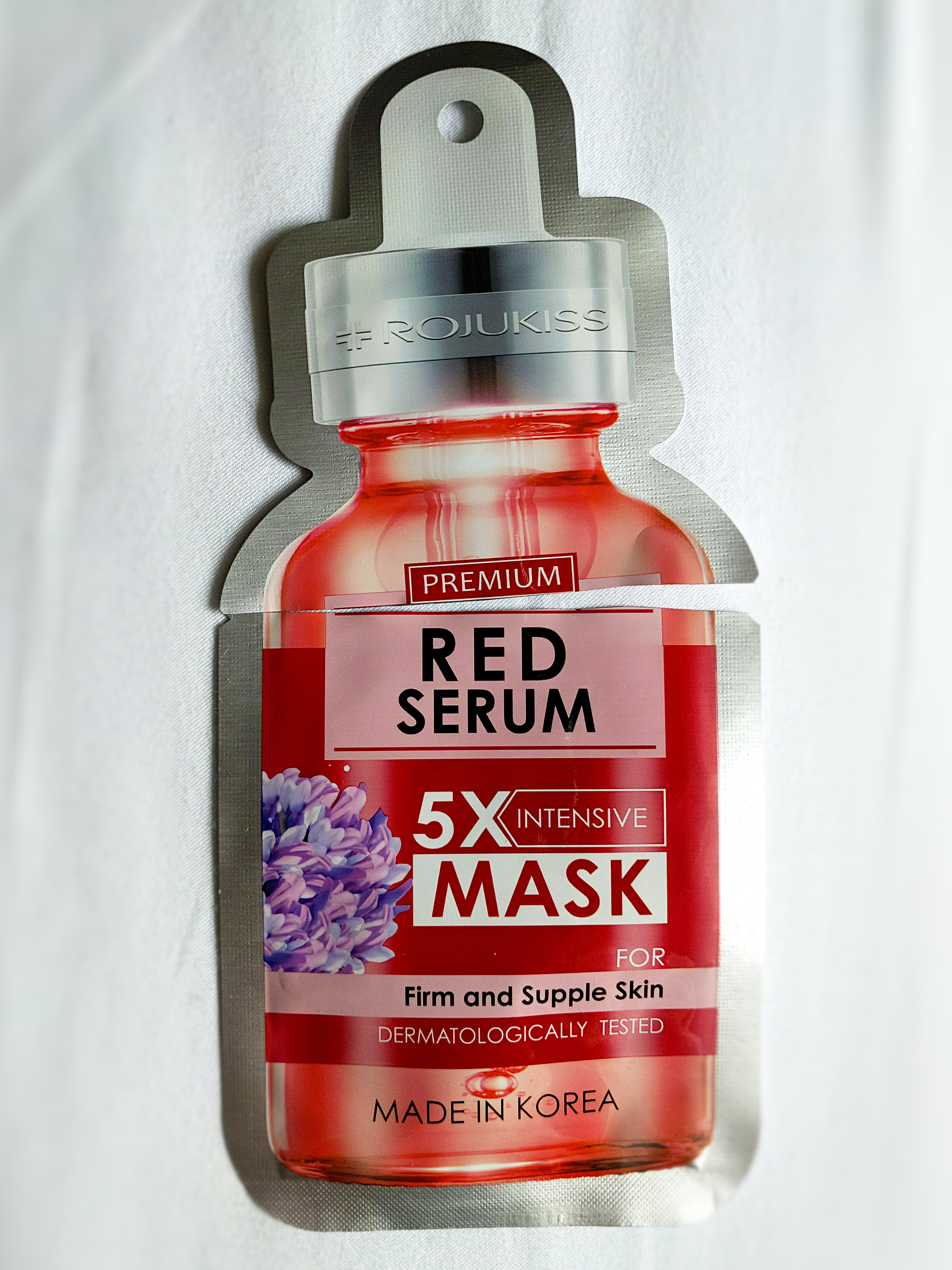 Product description
Rojukiss Red Serum 5x Intensive Mask is a facial treatment mask for stubborn fine lines, wrinkles and skin sagging problems – that's what it says on the packaging.
It has 5x intensive serum, which contains purslane extract. Portulaca oleracea, in its Latin name, is considered an antioxidant that has anti-aging properties, calms skin and helps skin retain moisture.
The serum also has niacinamide, bakuchiol, bergamot fruit oil, castor oil, panax ginseng root extract, adenosine, arginine, ceramide NP, allantoin, witch hazel leaf extract and Camellia japonica flower extract.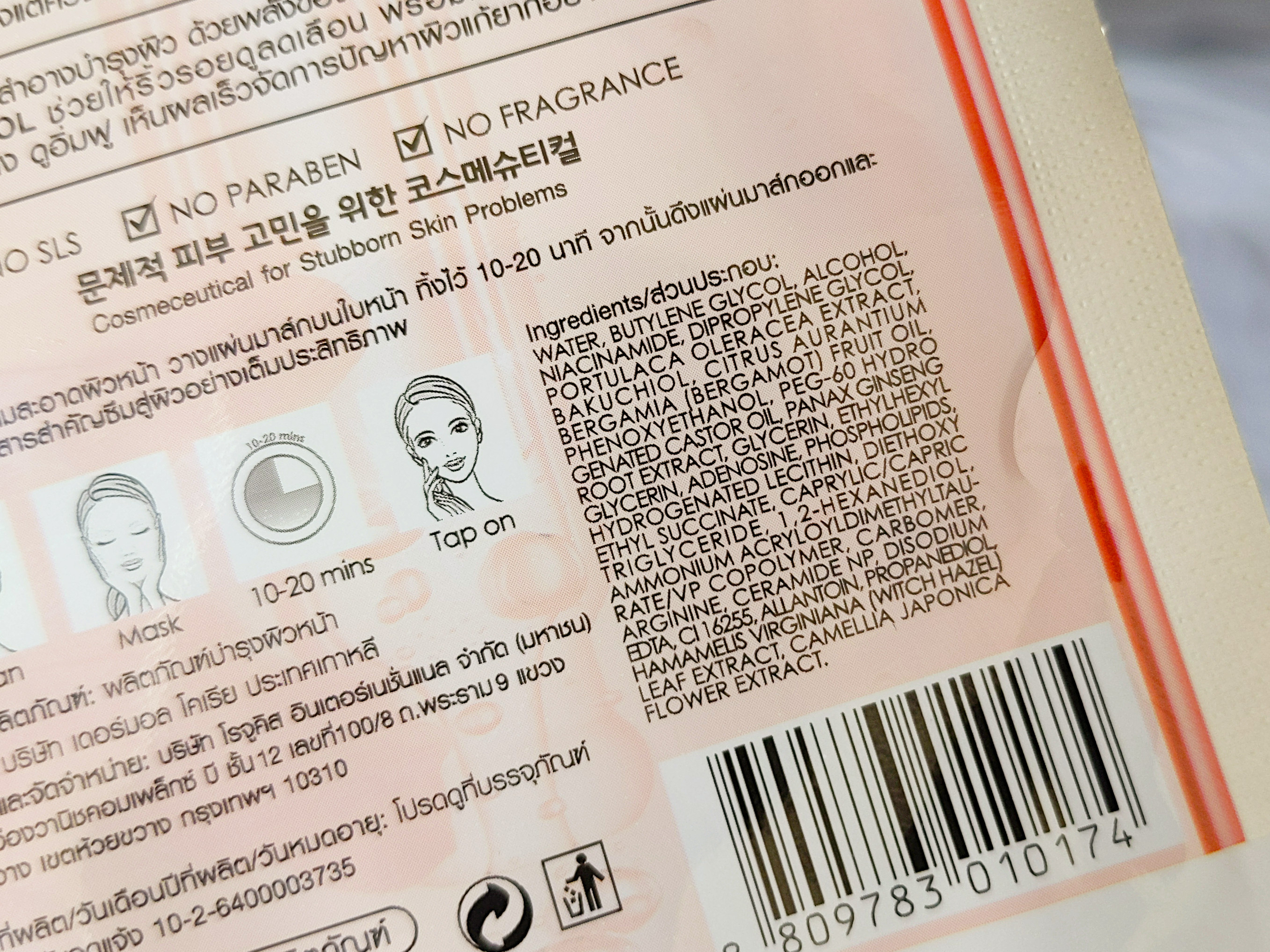 Contains no SLS, parabens or fragrance.
It's mentioned on the packaging that you should clean your face, put the mask on, wait 10-20 mins and tap the elixir on.
And that's what I did.
My not so grand experience
I cleansed my face with Bioderma Sebium Gel Moussant as usual.
The mask was so drenched in this red watery liquid, it was dripping constantly while I tried to unfold it. I don't like something I bought literally going down the drain.
I usually very much enjoy my little night mask rituals, so 30 minutes go by in an instant. Real special self-loving moments, you know.
Not with this one.
I barely made it to 10. The only thing I felt immediately was pain. Burning sensations. Like I soaked my face in alcohol (there is alcohol in the ingredients list). And my face was already red, because the serum is red, so I didn't know if I was having an allergic reaction or not (spoiler: I didn't)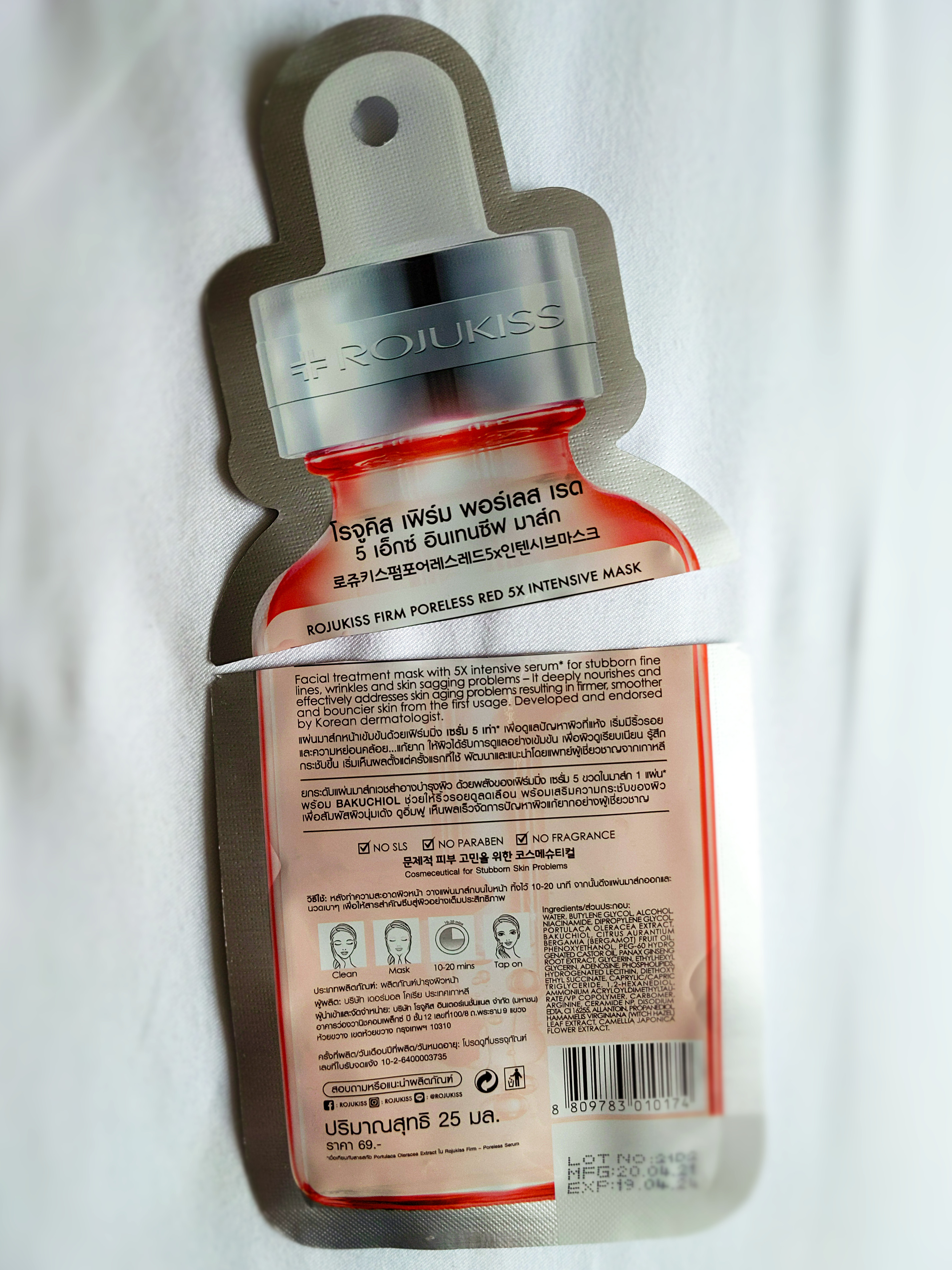 The mask should be fragrance free, but it had a scent of something fresh and synthetic.
What happened after
After I took the sheet off, the pain was almost gone, so I massaged the serum into the skin.
I was surprised by how good the texture was and how easily it can be absorbed. Watery and light, just as it should be. With Innisfree My Real Squeeze Mask Rose face mask for example, I would wait eternity for it to dry.
After, say, half an hour I continued with my usual nighttime skin care.
Tomorrow morning my skin was okay. It wasn't irritated, but it wasn't significantly improved either – nothing I couldn't get with other masks.
It was very hydrated for sure. Supple and nourished. But not firmer.
Fine lines and wrinkles – still there.

Conclusion
However, because this is my first time with Rojukiss Red Serum 5x Intensive Mask for skin tightening, it's possible that you'd need to use this religiously in order to notice the promised effects.
And it's possible your skin won't feel the pain mine did. This face mask obviously isn't for my skin – very dry, acne prone and sensitive.
Would I repurchase this? No.
So, still searching.